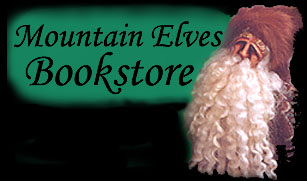 I hope you will enjoy browsing through Mountain Elves Bookstore.

Here you will find books on How to make Santa Claus Dolls by some of my favorite artists including Jack Johnston and Maureen Carlson. Books include cloth doll making, woodcarving, working with polymer clay and more. Look around, you will also find books and videos on woodcarving, felt making, art & craft, DVD and video, Santa Claus stories, legends, folklore, images of Santa Claus & postcards. Price guides, books for collector's and much more.
While you are here, don't forget to browse through Mountain Elves Amazon Store for unique gifts, Christmas tree ornaments, tree lighting, electronics & more!




Mountain Elves Featured Item

Great way to stay inspired while designing your Santa's
This is one of my personal Audio CD favorites!

The Autobiography of Santa Claus: It's Better to Give Audio CD
Jeff Guinn This enchanting story of St. Nicholas is based on historical facts and laced with the magic of legend told from the perspective of Santa himself. Filled with details of Nicholas's life, the beginnings of his gift giving, the expansion of his holiday calling, and more, this book is for everyone who loves the year's most special holiday.

Select the Book Isle you wish to enter....
Santa Making: Books that will help in crafting a Santa Claus doll. Applying what you learn will help you in creating your Santa dolls!
All about Santa Claus Books: My personal choices. Books listed here include: Santa Dolls, stories, legends and folklore, postcards and just about anything else about the magical old man.
Woodcarving Books: Detailed list of books on carving Santas Claus. Many books include patterns. Books for the novice, intermediate and advanced carvers
General Crafting Books: If you plan on making any of your own accessories for your dolls, you will find these books handy! Felt making to crafting miniatures, you will find that Santa Makers are "jack of all trades"!
Craft How To Video's - DVD and VHS: Dollmaking and craft related videos. If you don't have the luxury of taking a class first hand, sometimes a video can be the next best thing!

You will also find a few other Santa Claus and Christmas related videos down this Book Isle!

Price & Collectors Books & Guides to Santa, Dolls & Christmas Collectibles: Price Guides to Santas, dolls and Christmas collectibles. Discover valuable information about your favorite vintage Santa and Christmas collectibles!
| | |
| --- | --- |
| | Art & Craft Supplies: Find deals on everything from carving tools to sewing machines! Keep checking back for new additions and bargains. |
Search for more books about Santa Claus.

Try keywords such as Santa dolls or Santa+Making

You may also want to try typing the Author of the book.
Mountain Elves uses and supports the following web hosting service.
Great service and plans for both personal and business sites.
Ranked #1 in Hosting Review!
Amazon.com is pleased to have Mountain Elves in the family of Amazon.com associates.
We've agreed to ship books and provide customer service for orders we
receive through special links on Mountain Elves.
Amazon.com associates list selected books in an editorial context that helps you
choose the right books. We encourage you to visit Mountain Elves often to see what new
books they've selected for you.

Thank you for shopping with an Amazon.com associate.

Sincerely,
Jeff Bezos
President Amazon.com

P.S. We guarantee you the same high level of customer service you would receive at
Amazon.com. If you have a question about an order you've placed,
please don't hesitate to contact us.
| Home | Meet the Artist | Santa Gallery | Craft Gallery | Bookstore |
| Santa Folklore | Links | Add a Link | Santa Artists Yahoo Group |
| Discussion Group | Guestbook | Contact Mountain Elves | Santamakers Guild |

Last Updated: 10/03/11

Created: 3/21/97

Background & images by:
Mountain Elves © 1986 - 2011 Patricia McCarty
For permission to use images
E-mail: mountainelves.com

Website Design Services for Art & Crafts.
For information and prices contact: Mountain Elves
Specializing in Web Design for the Artist & Crafter since 1997